Come join the most comprehensive Conference and Expo NOW. ICT innovation can help you cut costs, get closer to your customers and increase revenue.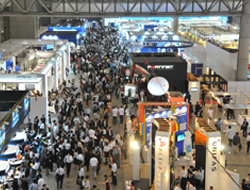 Venue

MAKUHARI MESSE(Chiba,Japan)

Dates

Conference

2009/6/8 Mon~12 Fri

Exhibition

2009/6/10 Wed~12 Fri

6/10 Wed 10:30-18:00
6/11 Thu 10:00-18:00
6/12 Fri 10:00-17:00
Organizer

Interop Tokyo 2009 Steering Committee

Special Support

WIDE Project

Management

Internet Association Japan,CMP Technology Japan Co., Ltd.

Expected Attendees

+150,000
themes

Cloud Computing
Virtualization on server network
Green ICT
NGN
Next Generation Data Center
Next Generation Wireless
IPv6 Platform
Application Performance
VoIP & Unified Communication
Smart Office solution
Home and Town Network
About Interop Tokyo 2009
Inspired by the term "Interoperability", it began with showing device interoperability using frontier technology at the time. Since then Interop has always been an upfront technology event by encompassing the leading technology of the time and functioning as a place to connect the leading professionals. And now Interop is the leading global technology event, with the most comprehensive IT Conference and Exhibition available.
This year's Interop Tokyo you can see and learn all about Cloud Computing, Green ICT, NGN, Verturization, Next Generation Wireless, Next Generation Data Center solutions and any other ICT Solution for business.
Show Contents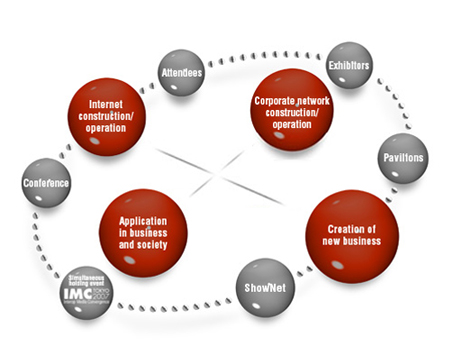 ShowNet

POINT!

"ShowNet" has always been a comprehensive demonstration of Interop Tokyo since its very first holding in 1994. As many of Interop fan knows the naming "Interop" originates from [InterOperability] and THIS IS indeed what ShowNet is composed of. You will see various and wide range of interacted equipments and services selected and gathered from Interop Tokyo's exhibitors.

Giving a special prominence to its contents, ShowNet presents a brand-new theme of the hottest issues every year.
This year, ShowNet presents "Face the 2011"; Network Verturlization, Demonstrating Cloud Computing,
Deployment of IP as typified by Digital Broadcastings, migration of IPv4 to IPv6, security issues…Servers and personal computers are giving up its role to anywhere-anytime devices as technology's ideal concept is shifting its phase to the reality.

Accessibility and connectivity is no longer an inside-the-office monopoly in the very near future. A huge makeover is right there waiting for a countdown.
Now the technologies sprint alongside the reality. What we need is not a paper work or a desktop idea but real time demonstrations, verification of movement and above all to see what it was to be "an idea" become "the reality".
Face the 2011 now. Watch the future in-action, service architecture demonstration at the largest scale in the world.
About Conference
The Program Committee held extensive discussions to determine which skills are really needed for engineers today, and which area is critical in foreseeing future IT and the skills it will demand. The results of the discussions can be found in this broad lineup of over 50 programs, among which you'll be sure to find the one that suits you sector and objectives. Don't forget to check them out!