What is ShowNet?


"ShowNet" has always been a comprehensive internet technology demonstration of Interop Tokyo since the beginning of the show back in 1994.
As many of Interop fan knows the naming "Interop" originates from[InterOperability] and THIS IS indeed what ShowNet is composed of.
You will see various and wide range of interacted equipment and services selected and gathered from Interop Tokyo's exhibitors.
Giving a special prominence to its contents, ShowNet presents a brand-new theme of the hottest issues every year.
ShowNet 2015 Concept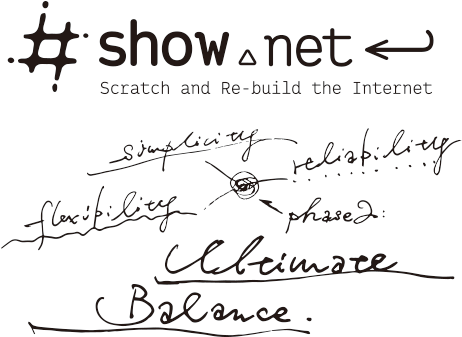 "Can we continue internet service with the current network design and/or operating method?"
Since last year, we started proposing the new way of network design, operation method. As the second challange, we set the concept as "Scratch & Re-build the Internet Phase 2 - ULTIMATE BALANCE - " and demonstrate the different style of net challenge work from last year. We will try deploying the network by balancing simplicity, flexibility and robustness.
Stop by the ShowNet booth on the hall 4 and check out our network!!
Best of Show Award "ShowNet Product Category"
ShowNet Product Award is selected by NOC team members to the products which contributed to deployment/operation of the ShowNet.
Grand Prize

Palo Alto Networks, Inc. PA 7050
Runners-up

Jupiter Technology Corp. Nagios Log Server
Runners-up

TileFlow Japan, Inc. PLENAFORM SYSTEMS